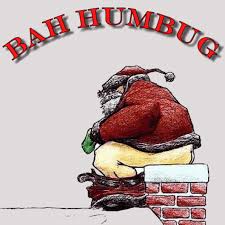 When the full time siren wails in parliament
To the tune of, "chestnuts roasting on an open fire…" And, santa Shorten's cry, "up Dasher, up Dancer, up Prancer and up Yours."
As the 2017 session of parliament draws to a close and our special species pack their bags and scarper some will have more to think about that stuffing a frozen turkey. Herein is the state of play in the form of a merry Christmas card to whom it may concern. The defence that 'everybody does it' seems inconsequential to the Court of Disputed Returns as some scofflaws have already learned.
At this time the exact number of parliamentarians that may be caught in the Dual/Cit net could go beyond the 13 mentioned in this report—it could reach 20. The image affixed may well prove to be most prophetic indeed!
All in all, as many as 13 MPs face referral to the High Court as a result of today's citizenship disclosures.
They are:
•Labor MPs David Feeney, Justine Keay, Josh Wilson and Susan Lamb;
•Coalition MPs Jason Falinski, Josh Frydenberg, Ross Vasta, Nola Marino, Julia Banks, Alex Hawke, Arthur Sinodinos and Michael McCormack; and
•NXT MP Rebekha Sharkie.
And that's not counting Labor senator Katy Gallagher who, we discovered yesterday, was technically a dual citizen when she was elected because she renounced her dual British citizenship before the last election but it was not registered until six weeks after election day.
So that's 14 MPs this week.
•7:01pm
It has fallen to Mr Dreyfus to speak for the Labor Party on all matters citizenship.
He goes straight on the attack: "We've possibly got an unconstitutionally elected government here."
Mr Dreyfus names seven government MPs the opposition wants referred to the High Court – Jason Falinski, Julia Banks, Energy Minister Josh Frydenberg, Nola Marino, Industry Minister Arthur Sinodinos, junior minister Alex Hawke and Small Business Minister Michael McCormack.
•6:36pm
Political reporter Michael Koziol has spoken to Liberal MP Jason Falinski about his predicament (see 5.45 pm post).
"My father was never Polish. You might as well ask me why there's no confirmation from the Ukranian embassy," Mr Falinksi told Michael.
"As far as the UK goes, feel free to ask them yourselves. I'm literally not hiding anything."
Except any actual documentation he's not a dual citizen.
•6:22pm
Finance Minister Mathias Cormann says Opposition Leader Bill Shorten has been exposed as a "dishonest, sanctimonious hypocrite" for claiming Labor MPs had no citizenship issues.
"He forgot he owned a house. Now he's forgotten citizenship,"Senator Cormann says of Mr Feeney.
"You can't tell me Bill Shorten only found out tonight that was the case. You've got to assume Bill Shorten has known for some timeDavid Feeney had this problem."
"It just completely exposes the hypocrisy on this issue."
•6:15pm
Labor's attorney-general spokesman, Mark Dreyfus, has been asked about his party's due diligence.
Mr Dreyfus told Radio National just now: "I never suggested that our system was water tight. What I have done is say that it's rigorous. We've got a 12 page questionaire."
Greens leader Richard Di Natale is exercising admirable restraint about the possibility of a byelection in Mr Feeney's seat of Batman which could deliver his party its second lower house seat.
"Here we have David Feeney showing a complete lack of integrity, waiting until the last moment and then finally coming clean saying 'I haven't got the paperwork'," Senator Di Natale says.
•5:58pm
Remember – the High Court cannot deal with this until next year.
This means a possible sweep of byelections some time in the first half of next year. Probably in late March or April.
With marginal seats now in play (such as Mr Vasta's Queensland seat of Bonner) this could be a pseudo federal election. Dare one say a referendum on the Turnbull government.
•5:53pm
But wait, there's more – Liberal MPs Ross Vasta and Nola Marinoboth assert they have been told they are not dual Italian citizens.
But neither of them have any paperwork to back this up.
Which is not good enough.
This has been going on for nearly six months. The Prime Ministergave MPs several weeks to get their paperwork in order. One has to assume if they don't have the paperwork, then they are not in the clear.
•5:46pm
That would make Mr Feeney MP number 10.
Coming in at number 11 looks like Sydney MP Jason Falinski.
He has sworn repeatedly he is not a dual Polish citizen.
But all Mr Falinksi has provided by way of paperwork is an assertion he "sought legal advice from [legal firm] Arnold Block Leibler to confirm my citizenship status solely as an Australian citizen".
He does not have anything more than that. Not even a letter from him to the Polish embassy asking whether he is a citizen.
•5:37pm
Mr Feeney has just told Parliament if the documents cannot be located he will refer himself to the High Court.
"I accept I have been unable to produce the requisite notification on renunciation," Mr Feeney says.
"My status as a citizen in UK law is unclear."
•5:36pm
Good grief.
Mr Feeney is in big trouble.
If he is found to be ineligible, as looks almost certain, that will cause a byelection in the Melbourne seat of Batman.
This seat is highly sought after by the Greens, and they almost won in at the last federal election.
•5:34pm
"In November 2017, I sought confirmation form the British Home Office about my 2007 renunciation. Further inquiries are being made of the British Home Office to confirm receipt of my renunciation," Mr Feeney said.
"In November 2017, I sought confirmation from the Irish Ambassador about my renunciation of any Irish citizenship I may have had in 2007. Further inquiries are being made of the Irish embassy to confirm receipt of my renunciation of any entitlement to Irish citizenship."
"I have sought advice from the ALP national secretariat in respect of access to historical electronic documents from the time of my nomination as a senator for Victoria in 2007. Those searches are ongoing."
"I November 2017, I also sough independent Australian legal advice to confirm my status. Without waiving legal professional privilege in that advice, I am not an Irish citizen, nor have I ever been entitled to the rights or privileges of being an Irish citizen and I have taken reasonable steps to renounce my British citizenship."
•5:29pm
Way back in 2007, Mr Feeney sought legal advice before he nominated for the Senate about his possible dual British and/or Irish citizenship status.
He was pretty sure wasn't a dual Irish citizen but was possibly a dual British citizen because his father was born in Northern Ireland.
"At that time, in October 2007, I signed documents prepared for me in accordance with that advice as to the steps that I needed to take to renounce any inherited British and Irish citizenships," Mr Feeney wrote.
"As far as I am aware, those documents were sent to the relevant British and Irish authorities as required at the time."
But he did not check this until last month. That's right people – TEN YEARS LATER.
•5:21pm
Here's someone who never appeared on anyone's list previously – Labor MP David Feeney says he has never received confirmation he renounced his UK citizenship.
You might remember Mr Feeneyfrom the 2016 election campaign when he caused Opposition Leader Bill Shorten a world of pain due to his failure to declare a $2.31 million property.
Mr Feeney later blamed a "maelstrom of events" for the oversight.
•5:16pm
A quick scan shows Labor MP Josh Wilson was a dual UK citizen at the time he nominated. His renunciation did not come through until later.
Labor MP Susan Lamb says the British Home Office told her it "cannot be satisfied" she held British citizenship.
•5:12pm
For those playing at home – the MPs with some questions about their citizenship are Susan Lamb, Rebekha Sharkie, Alex Hawke, Ann Sudmalis, Julia Banks, Nola Marino and Tony Pasin.
•5:01pm
The time is now, the place is here!
The citizenship paperwork for lower house MPs has been released.
You can find it here – feel free to have a look and let us know if you see anything fishy.
•4:50pm
Minute by minute, the House of Representatives is getting through the same-sex marriage speeches.
Greens MP Adam Bandt has paused for a moment's silence to remember the LGBTIQ people who have died.
•4:40pm
Not surprisingly, GetUp! feels it is being unfairly targeted by the Turnbull government's new foreign interference legislations.
"This bill does nothing to address the influence big business has on our politicians. The rivers of gold flowing from corporate donors like Adani, Exxon and Chevron stay open and industry bodies like the Minerals Council of Australia can continue to campaign unimpeded. In stark contrast, the government is trying to weaken organisations that represent and support everyday people," the organisation's national director, Paul Oosting, said.
"The Turnbull government has sought to attack civil society organisations who advocate for children, the homeless and our environment and to cut off their ability to scrutinise government policy."
•4:14pm
There is a whisper the lower house MPs' citizenship paperworkwill be available shortly.
Stay tuned.