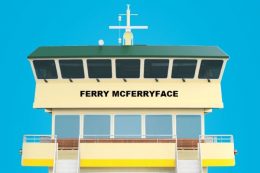 Ferry Mcferryface—they've been scammed
A decision to name Sydney's newest public transport vessel Ferry McFerryface has split the harbour city. Some are defending the online poll, in which members of the public could decide the names for several new ships, while others are describing the situation as "ridiculous".
Oh dear! Idiots at the helm of this gee up. In a world where school kids can hack into ASIO, the Pentagon, banks and Centrelink data, controlling an online poll is chicken feed. The pollsters have been conned. Although, our parliamentary system has become a circus, our PM is a clown and were are broke—yep, Ferry McFerryface fits rather nicely. McDonalds must be laughing too—all the way to the bank.
Source: ABC
What do Australians think about Ferry McFerryface?
Maritime Union of Australia assistant branch secretary Paul Garrett this morning even accused the State Government of "taking the mickey" out of NSW public transport.
"I am just wondering why Sydney Harbour has to suffer a second-hand joke from the UK," he told 2GB.
"Three of the vessels named Victor Chang, Kathryn Hamlin and Fred Hollows are iconic Australians, Bungaree and Pemulwuy are two iconic Indigenous leaders and now we go with this nonsense which was a rejected joke in the United Kingdom."
However, others are not taking it quite as seriously and see it as a bit of fun for children.
Check out the results of a straw poll at Circular Quay.
Megan—"It's pretty ridiculous really but it will be a laugh for the city."
Max—"I think it's a bit silly, I think it should have something more practical and more Australian, perhaps something dedicated to someone in the past in Australian history."
"Not that impressed with it to be honest, it seems a bit cheesy really. I wish it was something more iconic or named after someone that was iconic."
"It's pretty cool, it's funny, I reckon it would work." — Cara
"I love it, absolutely love it, I reckon you can't take things too seriously and that's exactly it." — Tara
"I like it, I think it is fun." — Leslie
"It's a pretty quirky play on the job that the boat does." — Tony
"It sounds interesting, it sounds cool."
Jill—"I thinks that's probably fun for the kids, off to Manly or off to the zoo … as long it's not a connotation with the fast food chain."