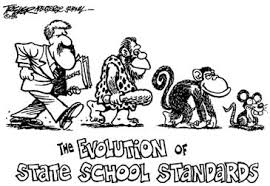 nah mor liracy test 4 techrs
At least one in 20 new teachers registered to work in Victorian classrooms have failed or have not completed a compulsory test that measures basic literacy and numeracy skills. That means 50,000 children in Victoria have an illiterate teacher who can not perform simple maths equations. There is suggestion that this applies accross all States in Australia. At least here we try to employ literate teachers, but elsewhere …
New York to eliminate literacy test for teachers in order to be more diverse
A New York literacy test designed to weed out unqualified teachers, called the Academic Literacy Skills Test, is to be done away with by the New York State Board of Regents as suggested by a task force according to The Associated Press.
The reason for eliminating the test is due to the fact that whites predominantly pass the exam at 64 percent, while other minorities such as blacks and latinos, pass the test with a 46 percent and 41 percent success rate respectively.
Pace University Professor  Leslie Soodak said that "We want high standards, without a doubt. Not every given test is going to get us there."
"Having a white workforce really doesn't match our student body anymore," Soodak added.
According to AP, the test consists of questions that have multiple choice answers that should be easily passed by a 12th grade student.
The Academic Literacy Skills Test consists of multiple-choice questions about a series of reading selections plus a written section.
A practice test available for $20 on the New York State Education Department website features John F. Kennedy's inaugural address as one of the reading passages and asks questions like this one: "In which excerpt from the passage do Kennedy's word choices most clearly establish a tone of resolve?"
Opponents to ridding New York of the test believe that this will lead to teachers with a weak ability to teach, however, Kate Walsh, the president of National Council on Teacher Quality said the reason minorities are scoring lower on the test is due to poverty and racism.
T
his will of course lead to poorly educated people such as those that make the following decisions:
Prosecutor on why hijab-wearing student wasn't charged for hate-crime hoax—when another woman was
The chief assistant prosecutor of Michigan's Washtenaw County answers why a hijab-wearing University of Michigan student wasn't charged for her hate-crime hoax when a fellow student was.
Two University of Michigan students concocted hate-crime hoaxes in the days following Republican President Donald Trump's election in November — a period of time when other "crimes" that badly reflected on the future administration turned out to be fabricated.
One of the UM students claimed a white man cut her face with a safety pin in Ann Arbor on Nov. 15; she was charged and pleaded guilty to making a false police report.
The other UM student falsely claimed that on Nov. 11 a white man in Ann Arbor threatened to burn her if she didn't remove her hijab — a head scarf often worn by Muslim women.
But prosecutors declined to press charges against the hijab-wearing student, who was never named.
The student who claimed a white man cut her face with a safety pin — 21-year-old Halley Bass, who appears to be white and reportedly is no longer a UM student — was charged with a misdemeanor and faces up to 93 days in jail and/or a $500 fine
However, the unnamed hijab-wearing student faced a felony for her fabrication since the crime she reported — ethnic intimidation — is a felony
Her false claim also got the attention of the FBI, which put in time to assist local law enforcement — and it stirred up other students, who held a candlelight vigil in its wake:
In addition, reporter John Counts noted in the comments of his story on Bass' guilty plea that after he submitted a Freedom of Information Act request on the hijab-wearing student's case, Counts noticed her name was redacted in the report.
The reporter contacted Steven Hiller, chief assistant prosecutor for the Washtenaw County Prosecutor's Office — which handled both cases — to find out why Bass was prosecuted and the hijab-wearing student wasn't.
Hiller said that despite perceived similarities, each case is handled "on its own merits" — and in the end, he said moving forward with a prosecution in the case of the hijab-wearing student was "not in the interests of justice."
"That determination was made by a veteran prosecutor," Hiller said "I then reviewed the case and concurred with the reviewing prosecutor's decision." As for naming the hijab-wearing student, Hiller said she "was not the subject of a criminal charge" and therefore "her name was not and will not be released by this office."
As for Bass' case, Hiller said the "facts and circumstances … were different and such that the reviewing prosecutor determined that proceeding with a misdemeanor charge was proper. I have reviewed that case as well, and I also concur with the decision. Because a criminal charge was filed in that case the defendant's name is part of the public court record."
It happens here as well