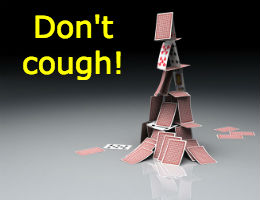 The corporate sisterhood glass ceiling club called out
As Abraham Lincoln once said about deception: You can fool all the people some of the time and some of the people all the time, but you cannot fool all the people all the time. And so it is with the high rollers turfed out through the AMP scandal. The sisterhood's toppled house of cards that was never anything more than a construct of "Jokers". As a result, former AMP CEO Catherine Brenner is being dealt faceless cards by the croupiers of other boards identified in the following article. There will be a lot of 'nervous nellies' in Australia's corporate world for a while as this collapse gives bravado to those overlooked in the quota push. Oh, dear, not the return of 'favours' for position surely?
The shareholder backlash is set to follow former AMP chair Catherine Brenner to her remaining role at corporate Australia, with the board of construction giant Boral next to come under pressure. Ms Brenner, who was forced to resign from wealth manager AMP last month following disastrous revelations in the royal commission, flagged her retirement from the Coca-Cola Amatil board at the company's annual meeting in Sydney yesterday.
Source: News Corp
Catherine Brenner to quit Coke board, Boral role in doubt
Ms Brenner, who collected more than $900,000 in annual fees from AMP and Coca-Cola Amatil, attended but did not address the meeting.
Late last month Ms Brenner stood down from the board of the Art Gallery of NSW.
The departure of half the AMP board has triggered intense debate about the quality of directors in corporate Australia.
Wesfarmers and AGL Energy director Diane Smith-Gander yesterday said too many directors did not put in enough effort at a time when board risks were increasing and compensation was stagnating.
"There are too many part-time directors, a lot of male part-time directors, and I see young women who think that being a non-executive director is about being able to balance career and family," Ms Smith-Gander said. "It's a professional obligation."
The Perth-based professional director, who is a former Broadspectrum chairwoman, said the AMP controversy was a wake-up call.
Ms Smith-Gander said the AMP board fallout was not about gender. "If you saw accountability needed to be shouldered then who should shoulder accountability? The chairman of the board, the longest tenured director and those up for re-election," she said.
"The dominoes fell and those were four women. It's coincidence."
The Australian Shareholders' Association, which represents retail investors, had called on Ms Brenner to resign from Coca-Cola Amatil, citing her accountability for governance at a company that dealt unethically with customers.
She was forced to resign from the top post at AMP after the company's fees-for-no-service scandal erupted at the royal commission into banking. Ms Brenner was also alleged to have made a number of changes to an independent report into the matter which was sent to the Australian Securities & Investments Commission. At the same time ASIC was alleged to have been misled by the company more than a dozen times.
The former AMP chair has been a Coca-Cola Amatil director since 2008 and will resign after the group's shareholder meeting this time next year. But Ms Brenner now faces the same pressure over her non-executive directorship at building products supplier Boral, where she is a member of the risk committee.
ASA policy and advocacy manager Fiona Balzer last night said the group was likely to vote against Ms Brenner at the Boral AGM, or call on her to resign if she was not up for re-election. The meeting will take place in November. "As was stated in the voting intentions for Coca-Cola's AGM, and will apply for Boral," Ms Balzer said.
"The ASA believes that the findings of the royal commission and Ms Brenner's apt acceptance of the fact that she was accountable for governance at AMP calls into question the appropriateness of her position on Coca-Cola Amatil's risk and sustainability committee at the least, and indeed her position on the board," Ms Balzer said.
It was ASA policy to oppose the election of any chair of an ASX 200 company who had been "demonstrably responsible" for poor decisions to the board of any unrelated companies.
A spokesman for Boral said the company had "no comment to make" on Ms Brenner, but chairman Brian Clark has said she provided "considerable and valued input as a director".
Coca-Cola Amatil yesterday narrowly avoided a "first strike" against its remuneration report, as 18 per cent of shareholders dissented against the remuneration plan for executives and board members. If a company receives a vote of 25 per cent or more against it two years in a row the board can be spilt.
Coca-Cola Amatil chief executive Alison Watkins said she would be "sorry to see Catherine go" amid calls from the ASA for Ms Brenner to resign immediately.
"I think it is a logical time, from a governance point of view. Eleven years is a good amount of tenure for a director, so it gives us an imperative over the next 12 months to make sure that we can find another director who brings the skills that we will be losing," Ms Watkins said.
"We absolutely believe it is in the interest of our shareholders that she continues for this next 12 months until she resigns this time next year.''