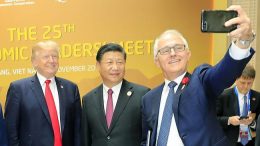 China: the bold bully boy at work
Object to China's arrogant expansionism at your front door and it will be met with bullying. Australia's objection to their position in the South China Seas, and let's not forget the ugly exposure caused by the repugnant Labor weasel Sam Dasyari who rubbed China's nose in the poo over political influence to a foreign power has won retaliation. They are bullying on many fronts despite Mr Turnbull's 'close' relationship President Xi Jinping. His close relationship with Donald Trump, sort of thing, and French Emannuel Macron who peed in Mal's pocket while chiding him about climate change. The vagaries of international politics has got the government scrambling. They should have opened the fortune cookie at the Xi Jinping banquet. Having drunk Malcolm's Kool-Aid, Trade Minister Steve Ciobo is now emulating his boss with nautical platitudes. Remember, the good ship Australia, sails filled with prosperity, scudding over the briny of adversity, sailing into the future of jobs 'n growth, through innovation and waffle? Well… the doldrums are upon us.
Source: news Corp
Australia extends olive branch to Xi Jinping
The Turnbull government has ­extended an olive branch to President Xi Jinping in an attempt to ­repair the China-Australia bilateral relationship, with Trade Minister Steve Ciobo urging both sides to "bring our boats together and help each other to find a way to the other shore of the ocean".
In a milestone speech in Shanghai last night, Mr Ciobo, the first Australian minister to visit the communist nation this year amid a diplomatic freeze, described China as a "true global giant". He said its relationship with Australia had developed into "something more".
Speaking to business leaders at the AustCham Westpac Australia-China Awards, Mr Ciobo referenced Mr Xi as he lavished praise on China.
Shanghai Municipal Commission of Commerce deputy director Xiao Yang and Australian ambassador to China Jan Adams were also in attendance.
"President Xi Jinping's speech to the World Economic Forum in Davos last year was one that the world noticed," Mr Ciobo said.
"I particularly remember President Xi said, 'One should not just retreat to the harbour when encountering a storm, for this will never get us to the other shore of the ocean'. For the partnership between Australia and China, if we find ourselves in choppy waters, we should bring our boats together and help each other to find a way to the other shore, avoiding the storm."
Despite Australia snubbing Beijing's attempts last year to link the Northern Australia Infrastructure Facility with China's Belt Road Initiative, Mr Ciobo complimented Mr Xi's BRI without shifting the government's position.
"One year ago last week I travelled to Beijing for the Belt and Road Forum, to ensure the Australian government engaged constructively and collaboratively with China on the landmark Belt and Road Initiative," he said.
"The Australian government is working to identify and facilitate access to commercial opportunities resulting from BRI. Australia can bring much to the table … we are looking forward to working on such projects where they are in the national interest of both our countries."
Mr Ciobo, who travelled to Shanghai to attend tomorrow's AFL match between Port Adelaide and the Gold Coast, will sign an agreement for an upcoming export summit.
The Australian first reported on the diplomatic freeze between the two nations in February and Malcolm Turnbull and Foreign Minister Julie Bishop are yet to confirm any plans to travel to China despite it being their "turn" to visit Beijing, as their respective counterparts visited Australia last year.
Universities, iron ore miners, casino operators and China-linked businesses have been most vocal in criticising the government's approach to China.
China-based Australian businessman Geoff Raby — a former ambassador to China and director of Yancoal — dramatically called for Ms Bishop to resign this week over the tensions.
In contrast to US claims of Chinese economic aggression harming American business, Mr Ciobo struck a conciliatory tone in his speech tonight.
"Speaking plainly, our partnership is benefiting both sides and making Australians and Chinese richer together," he said.
"Australians are not making gains at the expense of Chinese, and Chinese are not making gains at the expense of Australians."
Mr Ciobo — a vocal opponent of trade protectionism — said contrary to "scare campaigns", Chinese investment in Australia was "modest".
"While we are now seeing stronger Australian investment into China, and we would like more."
"Likewise, our trade flows see Australian and Chinese citizens both enriched from our relationship, with prosperity being boosted for both countries."
He also said China's "rise and growth" was good for the China-Australia partnership and "good for our people".
"Our relationship is mature, broad, and anchored in respect for our respective histories and world view. A comprehensive commitment to ongoing dialogue is critical to maximising the benefits that flow to us both from our partnership.
"That is not to say there won't be occasions when we may differ in our views of events and implications. Indeed, in all of Australia's relationships, we have our differences from time to time and we manage these with respect, and in the context of a positive, mutually beneficial relationship."
The speech came as Treasury Wine Estates conceded there had been a slowdown in shipments of its wine to China, saying the nation had introduced additional red tape that was also being applied to a number of other Australian companies.
To date, the government has argued there has been no impact on trade as a result of diplomatic tensions, but some in the business community have argued otherwise.
Treasury Wine stopped short of blaming the political situation but conceded there had been a slowdown in shipments of its wine to China as blockages and red tape at key ports delayed it getting its wine into the hands of distributors and buyers.
"Regarding separate commentary on certain industries in Australia, seeing a slowdown on clearance of imports into China, Treasury Wine confirms it is also experiencing delays for some of its Australian country of origin shipments being cleared by the General Administration of Customs China to replenish its inventory levels.''
Asked about the Treasury statement ahead of the speech, Mr Ciobo said: "The questions that are being asked relate to certificates of origin.
"Having this brought to my attention in the last 36 hours my office is mobilised, the Australian diplomatic mission here is mobilised and we will look at precisely what the situation is and if we can get to the bottom of it."