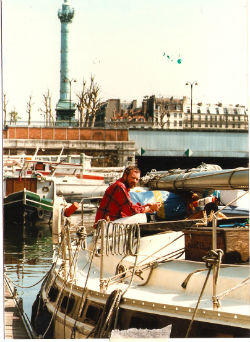 Paris to Lyon by canal
Exclusive
by Chaucer: Chapter one.

Adventure to some might be battling the Boxing Day sales mob for an item worth less than you are willing pay for it. Others go for those "extreme adventure" stunts that can only be described as a death wish. Adventures of the un-ordinary kind, however, are often hatched during enthusiastic exchanges fuelled by the romantic powers of the wine carton. This sojourn in itself was tame enough, once the respected Atlantic Ocean had been crossed and the yacht then comfortably moored in the Canal St Martin in Paris. Quite close to the Bastille, which can be seen in the picture.
Although the Wanderlust II crossed the Atlantic in 1984, this logbook chapter of mine deals with its passage through the canals in France en route to the Mediterranean. However, a brief history will familiarise the reader with how the yacht came to be in Paris.
When John, the owner of Wanderlust II, a 40-foot Morgan Out-Islander, planed to sail his yacht from Fort Lauderdale, Florida, across the Atlantic to England, I was recommended and accepted as a crew member because of my experience in matters mechanical, ocean sailing, cooking, predilection to the bon vivant and serious aversion to meeting Davey Jones in the middle of nowhere.
John's business was in public relations, a profession most know better as, hornswoggling the populace and thus much hype had been "leaked" to the media of this daring adventure, which, to the uninformed journalist, was necessarily paralleled to the perils of a Kon-Tiki expedition.
Matters of radar, satellite navigation, refrigeration, air-conditioning, movies and other on-board luxuries installed on the Wanderlust II were omitted before the curious media. One journo familiar with our hedonistic reputations wrote, "the crew's esprit de corps was electric despite their chances of survival being slim at best." It should be remembered that technology of 33-years ago was certainly primitive compared to equipment now on modern yachts. We had a tattered Bible in a floating box in which to record our last thoughts to loved ones—if there was time. Today, a smart phone allows word-by-word drama as your spluttering cries for salvation fall silent as a rogue wave sucks you under for the last time.
John had assured us, rather volubly, that goodly sums of money had put his yacht in a fine state of sea-worthiness and there would be little else to do but provision her with gourmet treats and ambrosial nectars—top the tanks with water and fuel and off on the high tide to Bermuda, about 1,640 Kms away—through the revered Bermuda Triangle I should add.
Departure came on June 2 1984, a crew of five, three whom I had met on one occasion only in a Montreal bar two weeks before had preceded John to Florida to prepare the yacht. Gibby, a Montreal restaurateur and a seasoned sailor, was to make the Bermuda leg. Steve and Janice, a brother and sister team with navigation and racing experience were to do the entire voyage. Pierre, a university student with no sailing experience later quit in Bermuda unable to tolerate the brother and sister duo. Myself, who left the yacht in the Portuguese Azores after six weeks for business reasons and John who captained the entire journey to England.
Continued this week.