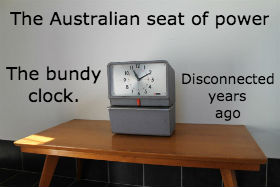 Australia has an office: but it's empty—nobody there!
Has everyone gone completely mad, who is running the joint?
Qantas boss Alan Joyce has told the government to get stuffed , I'll do as I please attitude. And now another weary old poof Bob Brown is using, of all people to draw attention to mostly himself via what has been in the past, an utterly laughable "Oration", Gillian Triggs will deliver a speech titled, Fighting for our rights — a 'fair go Australia'. Ha, Ha Ha!
Former Greens leader Bob Brown says his foundation's ticketed event featuring Gillian Triggs is not a fundraiser but "public service" for Tasmanians, amid calls for the Australian Human Rights Commission president to cancel her appearance or resign. Labor joined with Coalition MPs yesterday by warning that Professor Triggs's attendance was "clearly inappropriate" if it was a political fundraiser.
Source: News Corp
Triggs warned about perception in giving Bob Brown Foundation talk
She will deliver the seventh Hobart Oration on March 30 in a speech titled: Fighting for our rights — a 'fair go Australia'.
The annual event was initiated by the Greens and taken over by the Bob Brown Foundation four years ago, with tickets selling for up to $50 each. Professor Triggs, whose taxpayer-funded salary­ is about $400,000, said she had been assured by the organ­isers that it was not a fundraiser and that her travel and accom­modation expenses had been paid for by the foundation — a registered charity.
But according to the Tasman­ian Writers Centre the address will be used to launch a new CD, Portrait of Bob Brown, which has been produced to "support the work" of the foundation.
Dr Brown said his foundation had never made a profit from the Hobart Oration and had decided to give any leftover money this year to state human rights organisat­ions. In an interview with The Weekend Australian, he said his charity had "zero links" to the Greens: "The thought police of the Murdoch media are in full flight here because they want to prevent outstanding and courageous Australians like Gillian Triggs having a fair go.
"I would've thought The Australian, which claims to be a defende­r of free speech, would be right behind Professor Triggs's right to speak to people in ­Tasmania."
Coalition MPs have accused Professor Triggs of contradicting the Public Service Code of Conduct­, which states that the public service is "apolitical" and employee­s are "required to be impartial in performing their official­ duties".
Acting Australian Public Service Commissioner Stephanie Foster said all public servants were expected to apply judgment in accepting public speaking invitations, to ensure impartiality, and she expected Professor Triggs had considered "all relevant issues".
Labor's legal affairs spokesman Mark Dreyfus said daily government attacks against Professor Triggs were "a disgrace" and she had a "job to do promoting human rights", but added: "If this is a political fundraiser, then clearly it's inappropriate."
Liberal MP James Paterson said Professor Triggs "more than anyone else" needed to be "very careful" about how she was perceived, given political controversy surrounding the commission, and this latest ordeal only brought it "into further political controversy". "If she was really concerned about the standing of the commission she would reconside­r associating herself with such openly partisan organisations," he said.