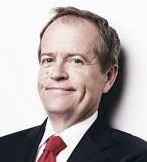 Australia in the hands of Bill Shorten and GetUp?
The next federal elections in 2019 could be the most defining elections ever held regarding the future of this nation. The appalling cabal of rotten politicians we now suffer will again breast the table of plenty like starving rats quibbling over their share of largess with more lies and deceit. Do your homework. Clip articles for future reference and be ruthless about it. Second chances for rats are the grace of fools.
If you are giving Labor any thought for the next election you could ether inform yourself about Bill Shorten's modus operandi. Not mentioned in today's story in The Weekend Australian is George Soros' activities in Australian politics. This excerpt from The Australian August 22 2016 by Jennifer Oriel adds perspective to the entire story:
In perhaps the biggest political scandal since WikiLeaks, a group of hackers has dumped hundreds of files exposing the influence of socialist billionaire George Soros on Western politics. The files show Soros has established a transnational network that pressures governments to adopt high immigration targets and porous border policies that could pose a challenge to legitimate state sovereignty. His Open Society Foundations target individuals who criticise ­Islamism and seek to influence the outcome of national elections by undermining Right-leaning politicians. The Australian arm of the Soros network is GetUp!.
*****************************************************
Source: News Corp
Shorten's AWU donated $100,000 to GetUp!
Bill Shorten was a big union donor to GetUp! when it was ­established, giving about $100,000, possibly more, to the left-leaning activist group.
The revelation, confirmed for the first time to The Weekend Australian, follows the federal Labor leader's persistent refusal to make any comment over what support he provided to GetUp! when he was in charge of the Australian Workers Union.
Mr Shorten was a founding board member of GetUp! when it was launched in August 2005 as an "independent, grassroots, community advocacy organisation" to campaign on progressive issues.
GetUp!'s most trenchant ­critics have claimed it is a "front" for the Labor Party, unions and sometimes the Greens, despite a past ruling by the Australian Electoral Commission that it could not find any evidence GetUp! was an associated entity.
Senior sources from GetUp! and Mr Shorten's former union have ­confirmed he was personally behind an AWU donation of about $100,000 and "the only union" to provide seed funding among four big donors when GetUp!'s co-founders sought start-up capital.
Other key donors at GetUp!'s inception included then Unions NSW chief John Robertson. As head of his state's peak union council, Mr Robertson never made any secret that his organisation contributed $50,000.
GetUp! insiders have told The Weekend Australian that wealthy entrepreneur and former Victorian Labor MP Evan Thornley donated more than $100,000 as start-up funds for GetUp!, and private equity investor and former SBS chairman Joe Skrzynski contributed a similar sum.
GetUp!, which says it relies on small individual donations for its campaigns, has released figures on large donors only since legal requirements from 2007.
During the 2010 election campaign, GetUp! received a record $1.12m donation from the Construction Forestry Mining and Energy Union. The funds were earmarked for a national TV ad, authorised by GetUp!, that attacked then opposition leader Tony Abbott over his alleged ­"archaic" views on women.
With no mention of the CFMEU, an ALP affiliate and big Labor donor, the ad that ran during the election campaign was later blasted by critics as evidence that GetUp! was partisan.
A group of Coalition senators asked the Australian Electoral Commission to find that GetUp! operated "wholly or to a significant extent to the benefit of one or more of the registered political parties", and had a reporting obligation to lodge annual returns as an "associated entity". The AEC rejected the senators' complaint, finding a lack of evidence.
In last year's federal election campaign, GetUp! targeted the Queensland seat of Dickson held by Liberal Immigration Minister Peter Dutton, and its campaign is credited with turning his previously safe seat into a marginal one. It is understood the organisation is already campaigning to oust him at the next election, due in 2019, because of his firm stand on offshore detention for asylum-seekers ­arriving by boat.
GetUp! is also credited with costing Tasmanian Liberal Andrew Nikolic his seat of Bass at last year's election.
Two years ago, when the matter of donations to the organisation surfaced during hearings of the royal commission into union corruption, Mr Shorten and GetUp! refused to comment on the nature of the Labor leader's AWU support. The activist group's first annual report for 2005-06 was seen to offer its thanks.
At the time, GetUp! refused to disclose whether Mr Shorten's AWU national office, or his Victorian branch, which he also controlled, made donations in 2005-06. Mr Shorten directed The Australian's queries to GetUp!.
With confirmation that Mr Shorten did donate a large sum of AWU members' funds to the organisation, The Weekend Australian yesterday asked the Labor leader for comment on why the money was donated.
Mr Shorten was also asked if he recalled that the donation of about $100,000, and any others for GetUp!, were documented in resolutions and donated under rule 57 of the union requiring approval by the AWU's national executive.
The Weekend Australian asked Mr Shorten if he recalled whether any funds went through the Victorian AWU ­office — or only the national office.
Almost seven hours after receiving the questions about his memory of the AWU donation, Mr Shorten did not answer them. Instead his spokesman said: "We don't have that sort of historical information at hand. You'd have to ask (the) AWU."
Several former senior AWU officials recalled Mr Shorten giving at least $100,000 of union funds to theorganisation in 2005.
The donation was also confirmed within GetUp!. "Bill put in 100k. He was on their board," a former AWU official said.
Another said he recalled the funds were a donation from the AWU's national office, and it was possible other funds ended up with GetUp! from AWU operating expenses.
AWU donations from the 2005-06 financial year were not itemised in financial reports, but the totals were exceptionally high compared with previous years: $94,000 for the AWU national ­office and $83,000 for the Victorian branch.
The AWU's current national secretary Dan Walton was asked repeatedly this week for details of the AWU donation and said he would check with an office finance manager, and minutes from the time. In the most recent communication Mr Walton said he was having difficulties obtaining the information.
Asked to provide details of GetUp!'s start-up funding in 2005, current GetUp! national director Paul Oosting did not answer. Instead he said that all donations over $10,000 had been "voluntarily" disclosed within 30 days of receipt over the past 12 years. He said the majority of funds came from small donors.