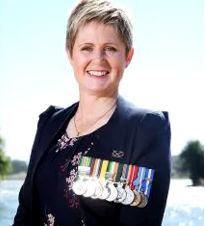 ANZAC march: times are changing
Source: The Daily Telegraph
(Image is Kellie Dadds )
SERVICE women will march at the front, the number of serving military will be boosted and descendants of veterans will be asked to march at the back under sweeping changes to this year's Anzac Day parade through Sydney. In an attempt to return the march to its roots as a salute to the men and women willing to sacrifice everything for their country, the RSL will also take a more active role in ensuring descendants are not confused with veterans. NSW RSL president James Brown, an army veteran who served in Afghanistan and Iraq, said veterans must be given precedence. "In the past you've had people who have done multiple tours on ­behalf of this country marching ­behind someone in trackie daks with some medals they found the day ­before, and clearly that is not appropriate," he said. "There is a place for family, but veterans march first."
Women lead the shake-up at Anzac
The RSL also wants non-veterans wearing a friend or relative's medals to display them on the right chest rather than the left so they are not confused with those who have served in the defence forces.
As a one-off, the march will be led by women from all eras and conflicts to recognise their contribution to the defence forces and to illustrate the changing face of Australian veterans. Women will also lead the ­parades in Perth and Melbourne.
"The 'By The Left' initiative is about telling the public that women do all the roles men do," he said.
Many of the older women will be considered veterans for the first time after the official definition was widened last year beyond those that served overseas to any member of the defence forces who were honourably or medically discharged.
In another change, the contingent of serving military will increase. Mr Brown said: "There are thousands of Australians serving across the globe right now, and we wanted them to feel part of the parade."
The RSL has been asking ­descendants to march at the rear for years, but will this year take a more active role in directing them to their designated place, both in the marshalling area and during the parade.
However, they will not force anyone to move and veterans will still be allowed to march with family.
The 'By The Left' initiative is about telling the public that women do all the roles men do.
If there was uncertainty about someone's position they would be asked if they are marching with a veteran. "We will ask people who are not marching with a veteran where they would like to be and help them understand where the appropriate place for descendants is in the parade," he said. "What we are trying to avoid is large groups of people who have never been in the military marching without a veteran."
Gwen Cherne, a war widow whose children will spend their second Anzac Day without their father, said she did not mind where widows, ­descendants and legatees marched, as long as they had a place.
"My main concern is recognition," she said. "I don't think we should be up the front. As long as there is a place for us where we are acknowledged as having lost a husband, father, brother or uncle."
Ken Foster from the Vietnam Veterans Association of Australia was happy for women to march at the front and descendants at the back so long as veterans were able to march with family if they chose: "I can understand the RSL wants veterans to be identified as veterans and not be confused about whether they are family or descendants."
STRANGERS often approach Kellie Dadds on Anzac Day to correct 
her mistake.
"Only military veterans wear their medals on the left chest," they say. "When you wear your grandfather's medals, you should wear them on the right."
They mean well. After all, Ms Dadds doesn't look like a typical war veteran — she's neither old nor male. But after 22 years in the army, many of them in Afghanistan and Iraq, she has earned the right to wear her medals on the left.
"I know of hundreds of women that's happened to, if not thousands, in all honesty," said Ms Dadds, a 40-year-old mother of three and a major until she left the army last month and who represents the next generation of war veterans.
"I have a mate who, at every service for 20 years, has been informed that she is wearing her medals on the wrong side."
In a one-off change this year, women from all eras and services will lead the parade to bring women to the forefront 
of a commemoration from which many have felt excluded.
"We have women returning from multiple deployments and they do have a lot of medals to wear and we should respect them as much as we do the old fellows," RSL state councillor Sandra Lambkin said. "Veterans do come in all shapes and sizes and ages."
Ms Dadds said this year's march was also an opportunity to honour women who served in past conflicts but were not allowed to deploy overseas. Many felt their domestic wartime service was second-rate, so they did not join the march.
"Of the women who served before 1983, very few were allowed to deploy," she said. "And if you were married or pregnant, the policy was that you had to discharge.
"So there are many out there who feel they were not allowed to march on Anzac Day. They didn't feel worthy because they weren't returned veterans."
A veteran has previously been defined as someone who returned from overseas service. This definition excluded the many women who were not allowed to serve overseas but still made significant sacrifices for their country.
But a meeting of Australian veterans' affairs ministers last year decided to change the official definition to include anyone who has served in the Australian Defence Forces and been honourably or medically discharged, thereby dramatically increasing the number of female veterans.
"There are some people who don't get the call up (for overseas service) throughout their career, and that is no fault of their own," Ms Dadds said.
"It comes down to what the government's commitments are.
"By no means does that mean their service is not as highly valued."
Ms Lambkin was a truck driver in the Royal Australian Women's Naval Service between 1968 and 1971 when women worked at the naval bases to free up more men to fight in Vietnam.
"We weren't allowed overseas, we were completely land bound," she said.
When she joined the RSL, she was given a different badge — she was a service member, not a returned service member — and she has never considered herself a war veteran. "I can't possibly know what they've experienced on the front line," she said. But she is passionate about ensuring today's female veterans are recognised.
"It's a way for us older women to honour young veterans, but also show there is still that sisterhood," she said.
MARCHING ORDER
The order of procession for this year's Anzac Day march:
■ The Governor of NSW, David Hurley (who will then double back and march with fellow Somalia veterans on their 25th anniversary)
■ Female veterans
■ RSL state council
■ Serving navy, army and RAAF
■ Invictus team (ahead of the Invictus Games in October)
■ World War II veterans
■ Police, fire and rescue
■ Post World War II army led by veterans from Operation Solace, the UN peacekeeping mission in Somalia (25th anniversary)
■ Korean War veterans
■ Vietnam War veterans
■ Special forces
■ Groups such as chaplains, medical, catering and nursing
■ UN and Peacekeeping
■ Red Cross
■ Legacy
■ War Widows Guild
■ Descendants of veterans
■ British and Commonwealth veterans
■ Allied veterans