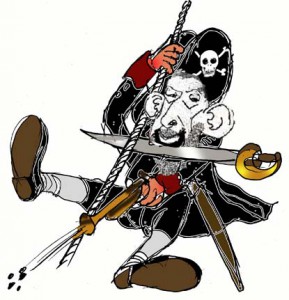 ABC: oblivious to public sentiment
Perhaps "oblivious" is the wrong word when referring to the ABC. "Arrogant", even "obnoxious" must be more in tune with the in-house cabal of Marxist driven practitioners of mediocrity freely dispensed as talent? Tim Blair writing in The Telegraph takes a stick to some of those who one day can stand up and say, "I was one of those responsible for the ABC being being broken up and defunded." Thinking that Pirate Pete FitzSimons was a life saving addition to its composting program formula emphasises a leadership bereft of any original thought. They keep sending in the clowns while few laugh and many snigger!
The first instalment was such a triumph that ABC staffers and associates have now launched part two of their quest to keep receiving $1 billion of your money every year in exchange for dull leftist hectoring.
Source: News Corp
THEY ARE ABC: THE SEQUEL
Diversity levels continue at an all-time high:
UPDATE. The political, cultural and racial diversity never ends at Their ABC:
Fresh from axing about 22 newsroom journalists to hire new digital staff, the ABC has hired highly paid Fairfax Media columnist Peter FitzSimons to be a guest reporter on Foreign Correspondent.
The guest role comes after ABC news director Gaven Morris said in response to a government funding freeze: "Make no mistake, there is no more fat to cut in ABC news. From this point on, we're cutting into muscle."
Next Tuesday, FitzSimons travels to New Zealand to report on the 1300 Kiwis that Australia has deported over the past three years under changes to the Migration Act that permit the deportation of non-citizens with criminal records.
Bets are open. How many minutes – or seconds – will elapse in this program before immigration and criminal law authority FitzSimons mentions "mates" and invokes the Anzacs?
UPDATE II. Readers may enjoy this review of Pirate Pete's latest history-twisting doorstop:
FitzSimons seeks to breathe life into his 'Dramatis Personae' (his term) by addressing their thoughts and recollections in the present tense. He takes reported speech from its historical context and places it for maximum dramatic effect. Sometimes the context is correct; many times it is not. He tries for a real-time 'boys own adventure', somewhere between film script and dramatised documentary. The result is neither; it prioritises form over history …
FitzSimons delivers an Australian-centric, chest-beating, Brit-bashing hero story that trumpets Antipodean achievement. Everything is viewed through the prism of Monash's (and broader Australian) brilliance, mostly to the detriment of the British and Germans. Monash's perspective on any matter is usually the position that FitzSimons also adopts, which does not make for a nuanced or objective approach to events …
The errors and omissions in FitzSimons' book are disappointing and many; they reduce confidence in the book's accuracy.