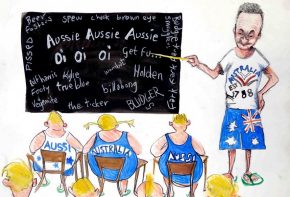 Ireland, thanks to its system of interchangeable representatives of two main parties you can't tell apart, is currently led by a guy named Leo Varadkar, a gay, half-Indian prime minister, who stepped into the office when his predecessor suddenly stepped down.
In a huge campaign which concealed everything a poof is and portrayed them as a minority who only wanted to love each other wet-behind-the-ears Irish young legalized gay marriage by a popular vote. It is now trying to repeal the country's anti-abortion constitution by repealing the Eighth Amendment.
More to the point, the gay Varadar is hell-bent on upsizing Ireand's population according to the Ireland 2040 plan, which envisions adding an additional one million people to the current population of 4.8 million people in the Republic — mostly through "immigration."
You can guess who is on the list of desirable immigrants. A whole village of 180 or so people has suddenly doubled with African 'refugees.' You could bloody stand it if they said they were looking for a better life than the one in Shitholistan #14, but they wouldn't get in like that.
Nations like immigrants who have skills they need. When we were taking in migrants in the 50's a fitter and turner stood a better chance of getting in than a farmer. We have plenty of farmers. Fitters and turners were needed for manufacturing. It was a win-win. We didn't have to pay the millions that it costs to raise and educate a kid, here he or she was already trained and ready to work. He or she was able to afford a car – the first sign of the first rung reached.
The gay marriage thing won't change Ireands attitude to gays – the gays know that – but immigration will if the immigrants that are coming are going to be useless asset eaters.
That all these developments are changing the character of the nation is beyond dispute, but since it's done in the name of tolerance, compassion, diversity and progress, the frog boils slowly. Still, even through the fog of political correctness one may sometimes discern signs of emotional sanity. Listen to this from a lefty lady;
I am in a cottage on a south Kerry cliff that once housed a family of 12 or more. The windows bang in the wind of a black night and I am sure the ghosts will seep through the thatch on top of me. They are the ghosts of people who died in the Famine. They are the ghosts of the neighbours of my relatives' relatives. I am somehow connected to them.
When I am 15, from the top deck of my bus on O'Connell Street, I see a woman running across the pavement outside the Savoy. She is striking, in a long, black, velvet, hooded cape. The bus, just moving, farts and seizes to a stop. When she is under the window, I see that it is Sinead O'Connor and somehow, I am connected to her.
Every rock on every beach on every coast belongs to me. In Dublin, in Donegal, in Cork, I feel connected. Every breaking wave is mine and when I die you can throw me into the sea because I belong to it.
I have spent more of my life away than here. I spent eight years in Malawi, four in Ethiopia, one in Vietnam, five in Zambia and two in Tanzania. Through no one's fault but my own, I never belonged anywhere else but Ireland. The feeling that I fit better here than I do anywhere else doesn't sit well with my ideologies of equality and globalism.
What the writer, Ceire Sadlier, is feeling, but can't quite bring herself to admit, is that no matter how much time she spends in Ethiopia or Vietnam, she will never be Ethiopian or Vietnamese. She's Irish, by birth and passport, but more importantly by essence. And yet it still probably hasn't occurred to her that, by the same token, the Syrians and Congolese now claiming asylum in Ireland even in the little villages, can never truly be Irish.
There is an exhilaration in being hit by the hot air of an African runway, knowing that grey streets and grey skies are 10,000 miles away. There is pure pleasure in hearing an open-backed truck of 50 people singing in perfect harmony. There is wonderment in a street full of purple jacaranda trees in bloom. But, held back only by my own psyche, I was only ever a visitor to those places.
I have been home for three years now. I am not callow. I am first to the podium to wave my fist, roaring about dearth and misogyny and rain. But I love my country more than ever, more than anywhere. I think we should talk about that more, because we need to remind ourselves that we are connected.
Some of us are talking about it, Ceire, in fact we talk about it all the time, and for our troubles get called "racists." Something for you to think about, the next time we're all talking about it.
What is there about Waltzing Matilda that thrills me? A song about a swagman who would rather drown himself than be arrested for stealing a sheep to eat doesn't sound patriotic material. But it is.
Same as Up There Cazaly. What a blend it makes. A football song, sure, but it says things about our national spirit – Up there and at them! Don't let them in! And it says something about migration. Cazaly was born here – father a Pom, mother a Scot. Name originally French. Mum and dad probably followed soccer, son is an Australian legend.
What is there about looking up at an enormous blue sky through the branches of a gum tree that makes you draw in your breath and ask "How good is that?"
Ceire is just one of the latest that seems to realises she has been brainwashed with multi-cultural bullshit, that there is nothing low-class about loving your own country, there is nothing bogan about it at all. The Brexiteers were all loyal poms – they knew, they were told often enough – that it would mean financial loss but in the end they didn't care, they were British, British, British first. Trump is an American – mother a Scot, but American through and through. He is disdained for it.
Look at the crowd in this video, look at the scene, listen to the voices – isn't there something that says we are Australians without the use of any such words?