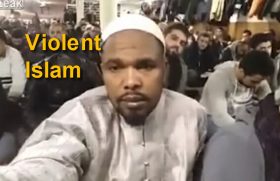 Praise the minority, prosecute the majority
The case of Tommy Robinson is all of a pattern with governmental policy.
Anyone who wants to expose reality and prick the balloon of political adoration of selected minorities will cop it.
Due to information suppression, it sometimes takes months to learn the details of even the most horrific events – how about this one?
An illegal alien from sub-Saharan Africa who has a child with a native German would normally be a heartwarming tale of multicultural harmony that the journos and authorities would love to promote, except for the way the story of Mourtala Madou turned out:
Mourtala Madou, a 33-year-old illegal immigrant from Niger, stabbed his German ex-girlfriend, and their one-year-old daughter, Miriam, at a Hamburg subway station. The child died at the scene; her mother died later, at the hospital. The woman's three-year-old son was there but somehow wasn't knifed.
Madou was angry because a court would not give him joint custody of the baby he murdered.
The media reported basically the above – it left out the fact that Madou attempted to decapitate the murdered baby. Well, that's what they do? Don't they? Seen it plenty of times on TV. It's a kind of custom. It's better not reported as a minority's culture is ipso facto better than the majority's culture.
However, when local blogger Heinrich Kordewiner discovered a video that revealed this hellish and sickening action and uploaded it to YouTube, he incurred the wrath of the authorities. Well, you would, wouldn't you – this is Mad Mother Merkel's World – a mixture of Disney World and the Third Circle of Hell.
A few days later, a team of state prosecutors and officers of the cybercrime unit of the Hamburg police arrived at Kordewiner's apartment with a search warrant, and confiscated his computer, mobile phone and other electronics, allegedly to find "evidence" of the "crime".
The crime: uploading the video? Presumably because it does not cast mass Third World immigration in a favorable light?
Ah, no. That would be telling. No, just like Tommy Robinson, a very rare legal excuse was used. Yes, there is an obscure law making it illegal to photograph helpless persons. See? A baby with its head chopped is a helpless person. All legal and above board. It's how authorities keep in power. Legally.
But nobody ever said authority is smart. The commos who run Hamburg unwittingly confirmed the attempted beheading in the search warrant! It stated that Madou "stabbed the child in the belly and then almost completely cut through the neck."
It is still suppressed.
When did it happen – last April! Only now we find out about the beheading. Heil Merkel!