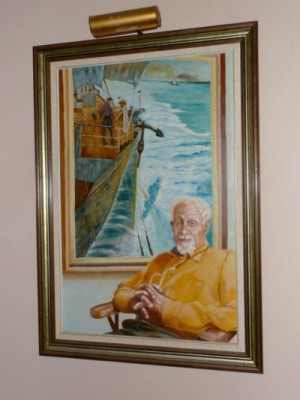 Morning Mail's link to remaining 'Cape Horner' sailor
The link being that Morning Mail's resident scribbler, Chaucer,  painted this portrait of the artist Dennis Adams seated before his marvellous painting of "Outward bound" which, may have been the same voyage on which Don Garnham had been sketched by Adams. Note the fore-jib sail set, colour and tone used by Adams in the final image.
Dennis adams has more than 400 of his works in the Australian War memorial. But, they do not have an image of this great Australian painter.
Declaration: Chaucer paints by numbers.
The life of one of Australia's last living links to early 20th century sailing has been celebrated in Hobart on his centenary.
Don Garnham turned 100 surrounded by friends, family and some much-loved memorabilia from his days sailing around the notoriously stormy Cape Horn in South America.The Hobart "Cape Horner" was one of the sailors who battled ice and dangerous seas, exploiting the strong winds through the Drake Passage, moving cargo to Europe on huge multi-masted ships and clippers in the 1930s. [Read more & Comments]