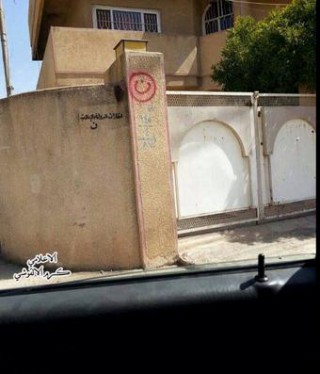 Hitler's Muslims
Exclusive
Bret Harte
In Iraq, this instant, this very day, homes and businesses are being daubed with a sign that signifies "a Christian lives here".
It is impossible to not see the startling parallel with Hitler and the marking of Jewish businesses with the word "Jude" and the Star of David.
In the photograph here the sign is actually the letter "N" meaning Nazrani – referring to Jesus of Nazareth.
Behind the sign is something even more terrifying.
The owners of the property are given three choices
1. Convert to the Religion of Peace.
2. Pay a special tax ("jizya") every month.
3. Be executed. [Read more & Comments]