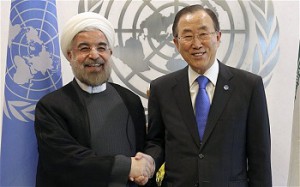 Another reason to ignore the UN
The IPA has published an article with concerns about Australia's schmoozing up to Iran. Our leaders exhibit a propensity to jump into bed  with serious violators of Australian standards. China for their record on humanity violations and now Iran for their record on women. See Female Genital Mutilation.
And so it goes with the UN's election of Iranian President Hassan Rouhani to the Executive Board of UN Women. Maybe Kevin Rudd will change this when he replaces UN Secretary General Ban Ki-Moon?
Despite its horrible record in the area, the Islamic Republic of Iran was recently elected to the Executive Board of UN Women, a body created to lead and co-ordinate the UN's work on gender equality and the empowerment of women.
[Read more & Comments]